Experience an enticingly exotic home stay
Situated on the banks of Pampa River, Sunny Days sports an inviting ambience and energizing new look. Nestled in a separate plot amidst natural greenery, it will accord you the moments of calmness and complete resting atmosphere.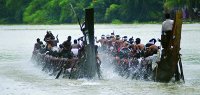 Beautiful lounge with essential furnishings and excellent convenience would first cool you down to a spell of happy home coming. Rest in its pleasant atmosphere and enjoy the first signals of an unforgettable vacation. Relax to your content in this high-ceilinged lounge, decorated with a large and stunning wooden table. Devour the taste of warm welcome in style.
Get nestled in our exotic bedroom aesthetically furnished to subtle fashion. Experience the spaciousness of this magnificent room fully carpeted and erected with lofty roof.Chill out to a modest and pleasant experience in this air-conditioned bedroom at Sunny Days .Well furnished to match with an exotic ambience, it will be your private world of extreme privacy and enticing beauty.Choose to be in this new set of bedrooms of charm and style. Fully air-conditioned and well appointed, the room accords you the warmth and vigour of an interesting home stay.
Cook our dish of choice in this most modern modular kitchen filled with sleek pull-outs, stylish hobs, microwave oven and other handy accessories. Enjoy the grand hue of coffee brown all around with a dash of elegance. Or get the service of our special cooks to prepare the local dishes for that special taste of the land.
Reside in our rooms with double windows for a waft of fresh air and scene of natural greenery outside. Take in the suppleness of soft furnishings to add on to your total rhythm of holidaying. Get the views of the outer world from this bedroom that exposes you to Nature. Here your convenience gets to the tasty realms of true Kerala touch. Enjoy total relaxation.
Rest in the lounge connected with a long verandah. Come out on to the true reels of pleasure-enthusing country side atmosphere. Give yourelf in to the typical backwater scent and sensation. An enveloping body of water that brings forth the exciting fragrance of paddy fields and peasant songs will transport you to a different world. Refreshingly soothing surroundings with binding natural beauty and country side will last in your memories for long time to come.
At Sunny Days, you are more than our guest. We take care to give you the most pleasant and memorable home stay experience to you. Committed service and honest dealings will definitely make you happy here. We have nothing short of the most exciting for you at Sunny Days.
Our activities include
Our Sight seeings include
Distance from Sunnydays to various destinations
Come in to enjoy the warmth of a different vacation. Come to Sunny Days.